The recent pandemic has made all of us, especially teachers, embrace technology. Although the pandemic is a terrible thing, it has made us become quite clever and innovative. I spent a year teaching physics to students from around the world while I was in my bedroom talking to a laptop. I have instructed students about how to perform physics labs at home with a small box of equipment and materials from around the house. And it is so easy now to put an assessment online, give the students a window of time in which to take the test, and have the computer grade it. Wow!
Before the pandemic, like Calvin, I had been asking myself, where are robots? But I got a peak of modern education during the last year with Zoom classes, online labs, lab simulations, Youtube videos, and testing without paper and no grading. So I ask myself, what might the future classroom look like?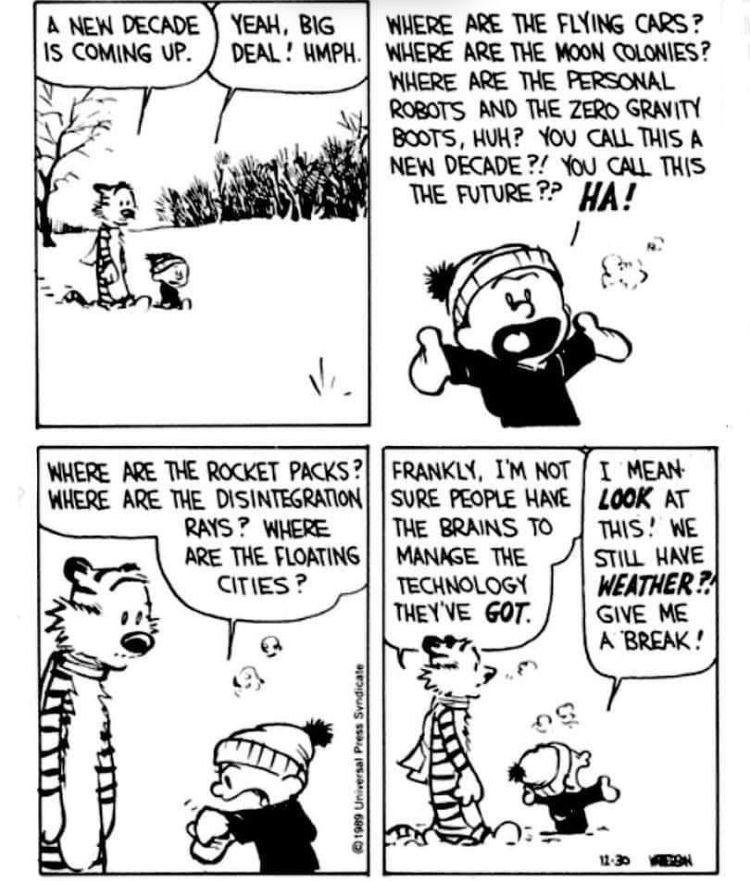 I think that the future of education is going to be personalized education. Although a very important part of the educational system is socialization, I still think that learning will be personalized. And that's a good thing, right? We have said for years that we wanted an individual educational plan for our child. Every child is different. So let's do this individual thing!
The future of the classroom is virtual reality (VR). Every child will have an age-appropriate individualized plan in every subject. Just put on your VR headset and start your lesson. The metaverse will take you through a lesson, stop and answer your questions, build on the lesson to a greater understanding if capable, and assess your progress all in one session. It will review the subject in a completely different way if you need remediation, spiral through the subjects connecting them to each other, giving them more meaning, and move you at a challenging but comfortable pace. This will be possible with artificial intelligence (AI). All of this will be done with the appropriate visual displays, just like the SmartBoard in your classroom. Want to study the pyramids, let's go there right now!
Maybe one day it will be possible to experience the metaverse with all of our senses. We can take cooking classes and smell the kitchen-like aroma. Hear the sound of the bee's wings flapping as we study its aerodynamics. The metaverse does have a socialization side to it. Maybe this is not a problem with the students in their bedroom instead of their classroom. As Raine Maida, the lead vocalist and primary songwriter of the alternative rock band Our Lady Peace. said, "they have the opportunity to exchange ideas, creativity, emotional intelligence, and ultimately dream with billions of people instead of being victim to real-world barriers such as socioeconomics, borders, and language."